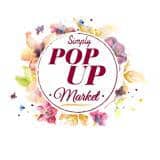 Simply Pop Up Market (Simply Pop Up Market)
Physical Exhibition
Thu, Mar 04 2021 - Sun, Mar 07 2021
Multi Product Bazaar with catergories Chic Fashion, Unique Accessories and Yummy F&B. This bazaar held in one of the biggest mall in Jakarta for 4 days. The products in here is local product and the goals is want to support SME business in Jakarta.
Introduction
WELCOME TO THE SIMPLY POPUP MARKET
Pop Up Shop and pop up retail are temporary retail spaces that sell merchandise of any kind. That's right, just about every consumer product has been sold via a pop up shop at one point in time.
From art to fashion to tech gadgets and food, pop ups are exciting because they create short term stores that are just about as creative as they are engaging.