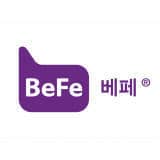 BeFe BABYFAIR (BeFe)
Physical Exhibition
Thu, Sep 15 2022 - Sun, Sep 18 2022
"Beyond Fair & Exhibition"
BeFe BABYFAIR is the first exhibition of baby products in Korea, which attracts 150 exhibitors with their famous brands from 20 countries around the world. Exhibitors participate at BeFe BABYFAIR as a market test-bed for its new products and promotions. It is recognized as a must-attend exhibition who are planning to launch baby products in Korea. In fact 40% of the exhibitors are from overseas.
Introduction
BeFe BABYFAIR has been held since 2000 as the first exhibition of 'Baby, Birth, and Maternity' themed exhibition in Asia. As BeFe has become the leader of baby industry, we creat various business opportunities to companies and introduce healthy family life to public.
Beyond Fair & Exhibition, BeFe
In July 1999, BeFe was established as a company specializing in Convention and Exhibition and since 2000, 'BeFe BABYFAIR' was held as Asia's first baby products exhibition.
'BeFe BABYFAIR' has been evaluated as representing Korea's successful exhibition. BeFe has been expanded and developed its business to baby portal sites, online shopping mall, mobile business, educational/cultural business and the media. Today, BeFe creates a new business model in exhibition industry.
BeFe stands for 'Beyond Fair & Exhibition', and 'Building Enhanced Family Experience', which represents BeFe as a Total Marketing Brand in pregnancy/childbirth/infant and promotes family lifestyle.