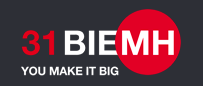 Spanish Machine Tool Biennial (BIEMH)
Physical Exhibition
Mon, Jun 03 2024 - Fri, Jun 07 2024
Spanish Machine Tool Biennial (BIEMH) displays products like Deformation machinery, Cutting and oxy-cutting machinery, Equipment for surface treatment, Tools for mh, Components for mh, Accessories for mh; Metrology, Software for manufacturing processes, Process automation; Manipulation of pieces, Robotics, Welding, and Materials etc.
Introduction
Visitor profile
BIEMH is addressed to professionals working in automotive, aerospace, aeronautics, ancillary, capital goods, metal construction, energy generation, domestic appliance, household goods, railway, cutting & plate-work subcontracting, mould & die or gas & oil industry.
Exhibitor Profile
Metal cutting machine-tools; metal forming machine-tools; cutting and flame cutting machinery; surface treatment equipments; tools for machine-tools; parts for machine-tools; components for machine-tools; metrology; product development and manufacturing software; automation of processes; handling; robotics; welding; chemical products; workshop & company services.