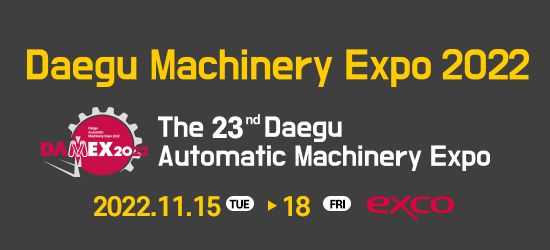 The 23thDaegu Automatic Machinery Expo (DAMEX)
Physical Exhibition
Tue, Nov 15 2022 - Fri, Nov 18 2022
DAMEX is the largest Automatic Machinery Show in Daegu. The event will providing business meeting opportunities for both participants the local manufacturing industry. The show presents new trends products, such as FA Components, Tool & Metalworking Machines, Machine Tools, Precision Measurement Instruments, Inspection Devices, Logistics Systems, Packaging Machines, Molds, Welding. The show also invites over 20 Korean major mid-sized companies for purchase consultation meetings.
Introduction
Exhibits Field
01.FA Components
Automation System, Processing Machine, FA Components and Parts, Industrial Robot, Hydraulic and Pneumatic Machine, CAD/CAM/CAE, IT related device Etc
02.Smart Factory
- Manufacturing application (MES, ERP, PLM, SCM, etc.)
- Industrial devices / networks (robots, sensors, 3D printing, etc.)
- ICT platform (CPS, big data, network, etc.)
- Others (hardware and software related to smart factory)
03. Precision Measurement Instruments · Inspection Device
Three Demension Coordinate Measuring machine, Laser finder, Precision Measuring equipment, Testing machine, All sorts of Measurement & inspection, Etc
04. Machine Tool
Lathes, Milling machines, Machining Centers, EDM, Drilling machines Etc
05. Tool Metal working Machine
Metal working Machines Tools & Tool Processing Equipment Etc
06. Logistics Systems · Packaging
Auto warehouse and system, Conveyor belt, Auto packing machine, Labeler machine, Lift, Etc.
07. Machine Mold · Welding
Mold, Welding, Plastic Working, Surface Treatment, Heat Treatment, Etc