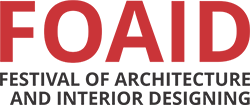 Festival of Architecture and Interior Designing - Mumbai (FOAID)
Physical Exhibition
Fri, Oct 07 2022 - Sat, Oct 08 2022
"The most celebrated festival of Architecture and Interior Design"
FOAID started with the idea of celebrating the glory of Indian Architecture & Design. Since its inception, it aims to create a benchmark where the stalwarts & the future designers share a common platform to discuss how the design world has transformed & innovated to create a future of spell bound figures. FOAID is an annual festival of creative minds to meet & discuss the new facets of the design fraternity. As the world of Architecture is growing leaps & bounds, FOAID promises to create something unique & exclusive for the industry.
Introduction
The Most Celebrated Architecture and Design Festival
FOAID is a celebration of innovation and has delivered more than 66 design shows across the country with 1000+ design talks directly influencing 50000+ audiences across the globe. Embarking upon a remarkable journey of 9 years, it has turned into an important platform in terms of exposure in the field of design for professionals to share their thoughts, engage, exchange, and much more.