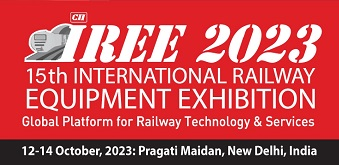 International Railway Equipment Exhibition (IREE)
Physical Exhibition
Thu, Oct 12 2023 - Sat, Oct 14 2023
The International Railway Equipment Exhibition is an international event that looks forward to railway equipments, railway related products and accessories, railway interior, railway infrastructure and all other similar products and displays. The exhibition also conducts seminars and interactive sessions, thereby creating a global platform for the railway industry. With emerging technologies and services, pertaining to the industry, the event has witnessed international appearance. The exhibition also stands by unique models of the railway industry and allows one to get an insight about the prevailing industry.
Introduction
ABOUT IREE
Organised by the Confederation of Indian Industry (CII), in association with the Ministry of Railways, Government of India, the International Railway Equipment Exhibition (IREE) is the only international event in India for the Railway and its related sectors. The Indian Railways participate in the IREE in a big way, displaying their capabilities and future requirements. The IREE attracts participation and visitors from around 20 countries.
The first IREE was held in the year 1990 in Kolkata, with 55 exhibitors from India and overseas. The focus was Indian Railway's upgradation, modernization, electrification and computerization. The second IREE was held in the year 1994, again in Kolkata, with around 100 exhibitors.