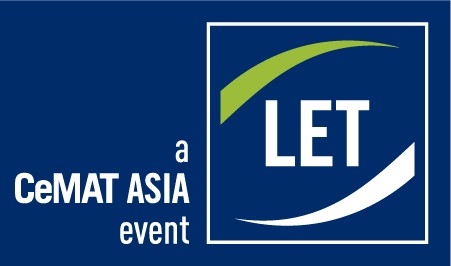 LET-a CeMAT ASIA Event (LET-a CeMAT ASIA Event)
Physical Exhibition
Sat, Aug 06 2022 - Sat, Aug 06 2022
New products, new ideas and new technologies gathers here. For us, this is a very good platform and can effectively boost communication between suppliers and users and help improve our own logistics system. We mainly focus on AGV, charger, forklift and battery. With logistics technology innovation as the entry point, the exhibition fully showed the on-going intelligent cases that use the logistics equipment and technologies, which lets us have a better understanding of the industry's cutting-edge technologies as well as the latest development and new trend of high-tech AI. Besides, we have paid attention to intelligent warehousing logistics, which is very helpful for the development of our enterprise; we also found equipment related to intelligent logistics, such as cleaning equipment and packaging equipment, at the exhibition, which are now under negotiation. Many thanks to the organizing committee for providing us with such a good platform!
Introduction
LET-a CeMAT ASIA event 2022
In 2022, the LET-a CeMAT ASIA event will be fully upgraded, presented by the joint venture company Hannover Milano Best Exhibitions(Guangzhou)Co.,Ltd between Guangzhou Best Exhibition Co., Ltd. and Hannover Milano Fairs Shanghai Ltd. the show will combine the strengths from both partners, by the joint forces, it will become the new driving force to the China logistics market. Importing global resources, LET will provide a high-quality trade fair platform for exhibitors to display, communicate and finding cooperations in Chinese logistics market. In the meantime the show will also bring together the best logistic equipments and technologies from worldwide; explore the current trends of intelligence logistics, automation, information technology, advanced manufacturing, IoT and Logistics 4.0. LET-a CeMAT ASIA event is the best choice for your precise positioning!