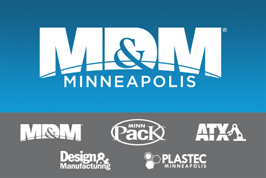 Medical Design & Manufacturing Minneapolis (MD&M Minneapolis)
Physical Exhibition
Sun, Oct 02 2022 - Mon, Oct 03 2022
Connect with Leaders Across Every Link in the Supply Chain
Medical Design & Manufacturing (MD&M) Minneapolis connects you with top industry experts. But that's true of other trade shows. What sets MD&M Minneapolis apart is that it's actually five complementary events in one. The definitive event of the medtech industry, MD&M Minneapolis empowers its attendees to access expertise across the supply chain. The heart of this show, now in its 25th year, is not only connecting you with innovators in medtech, but also giving you access to industry leaders in 3D printing, biocompatible materials, plastics manufacturing, robotics, and automation, to name a few.
Robotics and automation play an increasingly vital role in advancing designs, reducing costs, and increasing productivity for medical device manufacturers (see how at the news site MD+DI). And, of course, plastics are crucial to countless life-saving medical devices, because they're flexible and often cost-effective.
Register now for your free expo pass and connect with leaders across the supply chain at MD&M Minneapolis this October.
Introduction
Who Should Attend MD&M?
MD&M is designed for medtech engineers and innovators who need to solve tricky challenges in the industry. Come discover how solutions in sustainable plastics, smart packaging, biocompatible materials, 3D printing, and IIoT can impact the medical industry and beyond.
This is where suppliers, engineers, executives, and thought leaders can learn, contribute, and create solutions to move the industry forward.
The conference at MD&M Minneapolis is a place where innovative thinkers come together to solve big challenges. The Medical Design & Manufacturing conference offers three immersive tracks: R&D, Product Development, and Quality & Manufacturing.
Conference Topics Include:
Emerging technologies
Materials and coatings
User-centered design
Artificial intelligence
Sensor technologies
Usability testing
Automation
Scale up and slim down
MD&M and the shows taking place alongside it – Automation Technology Expo (ATX), Design & Manufacturing, MinnPack, and PLASTEC – will showcase more than 500 exhibitors who know that this event is the place to meet leads, influencers, and customers. Don't miss it!