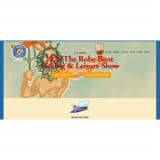 Robe Boat and Fishing Show (Robe Boat and Fishing Show)
Physical Exhibition
Sat, Feb 19 2022 - Sun, Feb 20 2022
"Speed Machines"
The Robe Boat Show, organized by the District Council of Robe will take place from 19th January to the 20th January 2019 at the Robe Marina in Robe Australia. The conference will cover areas like Robe serves up a vast range of culinary experiences for all who visit. Choose from groovy cafes, casual dining, atmospheric country Pubs, alfresco fare or family friendly eateries, a full dossier of our local products.
Introduction
We have been doing this for a while now & we are heading to the 11th edition in a row!
Well, needless to say, it will be a special one! - with a vast range of amazing boats of all shapes & sizes.
From one-man dinghies to island-hopping luxury catamarans & everything in between. Our lifestyle section will feature luxury vehicles, tow cars, suv's and 4×4's, caravans & outdoor equipment with something for everyone. There will be added attractions for all ages, from the kids play area, locally sourced food and of course, loads of options of handcrafted beer & wine from the Limestone Coast.
The 2022 Show promises an amazing range of entertainment for all ages & families and this year we will be presenting a NEW-&-MUST-SEE "Concert for Peace and Harmony" with singers and musicians from many backgrounds with the best of local talent. And Sunday, the great 4 On the Floor with Shane O'Hallaran, Beck Willis and Limestone Americana so you can get your groove going! On top of that, we will run a special fishing competition for kids under 14 years old* (can't wait!) and of course, we will display a huge range of incredible boats, caravans, camping equipment and luxury vehicles. Lastly, all the top-notch quality handcrafts, gourmet produce and artisanal beer & wine/whisky/gin:). Oh! without to mention, all hand picked to showcase the renowned Limestone Coast region.