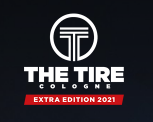 THE TIRE COLOGNE (THE TIRE COLOGNE)
Physical Exhibition
Tue, May 24 2022 - Thu, May 26 2022
THE TIRE COLOGNE is the international trade fair for the tyre industry. Motor vehicle and tyre workshop equipment features prominently in addition to tyres and wheels. The offering is rounded off by tyre retreading and the recycling and disposal of old tyres.
Introduction
Extra edition of THE TIRE COLOGNE in May 2021 to be cancelled
New date from 24 to 26 May 2022.
The extra edition of THE TIRE COLOGNE 2021 with its digital complement TTC@home must be cancelled due to the still major challenges involved in carrying out trade fair events and the continuing travel restrictions as a consequence of the corona pandemic.
Take advantage of the unique setting of one of the top trade fair locations in the world to establish and groom contacts and really get your business rolling!
THE TIRE COLOGNE will make trends and themes that are moving the industry experienceable. Among other things, THE TIRE COLOGNE 2022 will focus on the topic: the growing demands for greater sustainability. The event and congress programme, including star-studded conferences, theme areas and special events, will provide additional information and emotional inspiration.