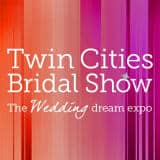 Twin Cities Bridal Show
Sun, Sep 26 2021 - Sun, Sep 26 2021
"The Twin Cities Bridal Show is the Fun Way to Book Your Wedding Vendors!"
The Twin Cities Bridal Show is your Go-To for everything you need for your wedding. Created by The Wedding Guys® as the FUN, FAST and FRIENDLY way to meet all of your wedding service providers, this is your opportunity to experience everything in person. Come get inspired, compare options and discover things you never thought of. With top local companies you can see, sample, preview and plan your wedding, all in one fun-filled day.Spark your creativity with The Inspiration Station™ - it's like Pinterest, only live! Get your tickets to the high-energy Aisle of Style Fashion Show. One of the most exciting opportunities at The Twin Cities Bridal Show is to see all the new ideas and creative ways you can make your wedding one-of-a-kind.
Introduction
Highlights
The INSPIRATION STATION brings Pinterest to life. Displays include fashion, decor, floral, and more!
The AISLE OF STYLE FASHION SHOW brings you stunning dresses in a high-fashion experience.
The GLAM 2 GO MAKEOVER ZONE is your chance to get pampered, so get a mini-makeover from our artists.