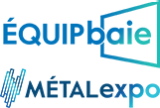 EquipBaie (EquipBaie)
Physical Exhibition
Tue, Sep 21 2021 - Fri, Sep 24 2021
EquipBaie show represents French and international manufacturers in the sector. Construction industry professionals come to discover the most innovative products and solutions for all types of projects, and particularly those that meet energy transition challenges in the construction sector. This is the industry's leading place for information and professional training, all in one fun event.

Introduction
Every two years, ÉQUIPBAIE-MÉTALEXPO brings together over 400 exhibitors and 20,000 professionals from the French joinery and metalworking sectors.
This flagship industry event provides a unique opportunity to meet your suppliers and find new partners.
ÉQUIPBAIE-MÉTALEXPO 2021 - Driving the positive digital revolution.
The construction sector is facing a real challenge: keeping up with the digital transformation while meeting consumer demands for greater connectivity. 
At this year's show, EQUIPBAIE-MÉTALEXPO is offering you the chance to meet the players driving the sector's digital transition. Enjoy an immersive experience over the 4 days of the show as you discover the most innovative solutions for joinery and metalworking professionals.