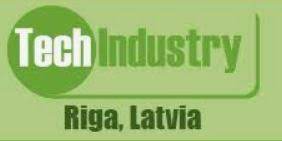 Tech Industry Expo (Tech Industry Expo)
Physical Exhibition
Thu, May 19 2022 - Sat, May 21 2022
The biggest and most important industrial fair in the Baltic Region "Tech Industry 2020"!
The international trade fair for mechanical engineering, metalworking, automation, electronics, electrical engineering, industrial supplies, tools and innovated technology "Tech Industry 2022" – the biggest and most important event for industrial production in the Baltic States – will take place at Kipsala International Exhibition Centre in Riga, Latvia, from 19 to 21 May.
Introduction
JOIN Tech Industry 2020
JOIN THE FAIR AND MAKE IT WORK TO YOUR ADVANTAGE!
Enhance your product sales in home and foreign markets
Meet and establish new business contacts with clients from Latvia, European, Nordic countries and the CIS
Offer new products and beneficial deals to your existing clientele
Present your new products and services
Promote your company and brands
Make new deals with partners in other countries
Sell your products during Tech Industry
Show new technologies, equipment and tools
See the products of other market players and negotiate cooperation
Tech Industry 2020 - The trade fair takes up two pavilions – Hall I (6700 m²) and Hall II (9300 m²) – offering 16,000 m² of total exhibition area.
MASSIVE INFORMATION CAMPAIGN BRINGS NUMEROUS ATTENDANCES!
The organisers launches a massive advertising and publicity campaign of "Tech Industry 2016" covering Latvia, Baltic, Scandinavian, East and West European regions that results in a three-day non-stop communication with top manufacturers of industrial production enterprises, investors, financiers, engineers, constructors, scientists, new business partners and other visitors from abovementioned regions.