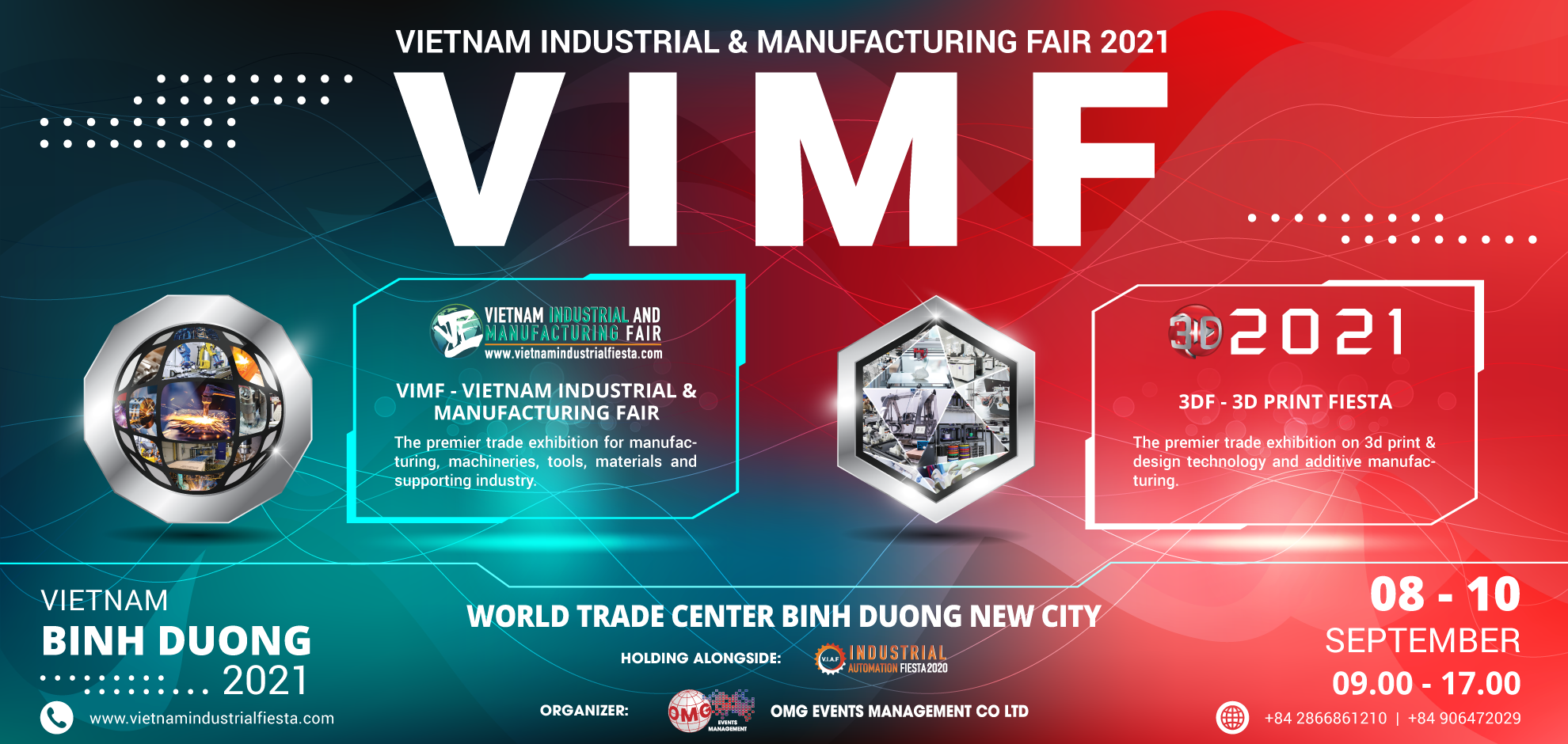 Vietnam Industrial & Manufacturing Fair (VIMF)
Physical Exhibition
Wed, Jun 08 2022 - Fri, Jun 10 2022
With 11 successful editions to date, VIMF 2020 – Southern and Northern Chapter in DONG NAI & HAI PHONG are the ideal platform for international/ local manufacturers and suppliers to launch new products, meet targeted buyers, appoint agents and distributors, generate new business delegates & visitors, govt. authorities, industrial associations, international trade consulates, etc and establish business networks in Vietnam market.
VIMF 2021 will be staging the specialized high profile event on technologies, equipment, machines & tools, systems, industry materials, and engineering services, for manufacturing, metalworking and subcontracting industries.
Introduction
VIMF 2021 is the compilation of:
Metalworking, Precision Engineering & Subcontract Manufacturing
Automotive Manufacturing and Contract Manufacturing
Machine Tools and Tooling Systems
Factory Automation, Process Automation
Industrial Equipments & Machineries
Plastics Processing and Materials
Electronic and Electrical Engineering
VIMF 2020 will bring you practical insights into the latest strategies, tools, trends in machine tools and metalworking, metrology and measuring tools, 3D print for additive manufacturing, sheet metalworking, software for manufacturing, tools and tooling systems, contract manufacturing, welding, and coatings to achieve and maximize productivity and operational efficiency in manufacturing, metalworking, and subcontracting industries.
Through expert-led presentations and displays, we welcome leading industrial companies from around the world and all over Vietnam to exhibits and update technologies to the growing manufacturing, metalworking, and subcontracting industries.
Holding alongside with the high profile of these industries in the area, Industrial Automation, Robotics Automation, Logistics Automation, Material Handling, Pumps and Valves, Process and Packaging, Analytical and Laboratory, Test and Measurement, are brought in together to the exhibition to service the manufacturing industries.