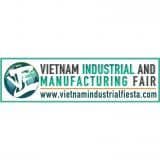 Vietnam Industrial & Manufacturing Fair (VIMF)
Physical Exhibition
Wed, Jun 08 2022 - Fri, Jun 10 2022
VIMF-Vietnam Industrial & Manufacturing Fair 2020- Southern & Northern Chapter will be staging the specialized high profile event on technologies, equipment, machines & tools, systems, industry materials and engineering services, . VIAF – Vietnam Industrial Automation Fiesta 2020, Southern & Northern Chapter is the biennial trade show in Vietnam that will bring you practical insights into the latest strategies, . 3DF – 3D Print Fiesta 2020, Southern and Northern Chapter brings together key players from the entire 3D printing ecosystem. From engineers and product designers through to brands . VMAT – Vietnam Material Handling Fiesta 2020- Southern & Northern Chapter will be holding alongside with VIMF 2020 focus on Material Handling, Warehousing, Storage & Racking Systems, Transportation and Logistics . Enjoy Up To 70% Subsidy In Singapore Pavilion at VIMF 2020 in  DONG NAI (Nov) and VIAF 2020 in HAI PHONG ( Dec) More Than 350 Exhibiting Brands/ .
Introduction
In 2022, the series of VIMF will be held throughout the 3 regions of South, Middle and North of Vietnam in Binh Duong, Da Nang and Bac Ninh with the participation of domestic and international enterprises with the largest scale ever now on.
VIMF 2022 is an international industrial exhibition in the form of a roadmap held in the Industrial Complex and we connect supplies of machinery, parts, equipment, technology and process solutions necessary for the automobile, electronics, machinery, textile, footwear, and high-tech industries to related manufacturers.